Arup K. Chakraborty
Robert K. Haslam Professor of Chemical Engineering, MIT
Professor of Physics and Chemistry, MIT
Understanding the mechanisms underlying the immune response to pathogens for the design of better vaccines; phase separation in gene regulation.
Research Interests
Statistical Mechanics, Molecular and Cellular Immunology, Immune response to HIV, Vaccine development, Gene regulation in mammals.
Biographic Sketch
Arup K. Chakraborty is the Robert T. Haslam Professor of Chemical Engineering, Physics and Chemistry at MIT. He was the founding Director of MIT's Institute for Medical Engineering and Science. He is also a founding steering committee member of the Ragon Institute of MIT, MGH, and Harvard. After sixteen years on the faculty at Berkeley, Chakraborty came to MIT in 2005. Chakraborty's research is focused on understanding how the immune system functions and how to harness that knowledge for the design of vaccines against highly mutable pathogens. He is also deeply interested in the role of phase separation in gene regulation. Chakraborty's work in these fields is focused on developing and applying approaches rooted in statistical physics to study fundamental issues in biology which are potentially of clinical significance. Chakraborty's work at the intersection of disciplines has been recognized by numerous honors, including the NIH Director's Pioneer Award, the E.O. Lawrence Medal for Life Sciences from the US DOE, a Guggenheim Fellowship, the Allan P. Colburn and Professional Progress awards from the AIChE, a Dreyfus Teacher-Scholar award, and a National Young investigator award. Chakraborty is one of 25 individuals who are members of all three branches of the US National Academies – National Academy of Sciences, National Academy of Medicine, and National Academy of Engineering. He is also a Fellow of the American Academy of Arts & Sciences. Chakraborty has received five teaching awards for his classroom teaching. He is a co-author of the book, Viruses, Pandemics and Immunity.
In the news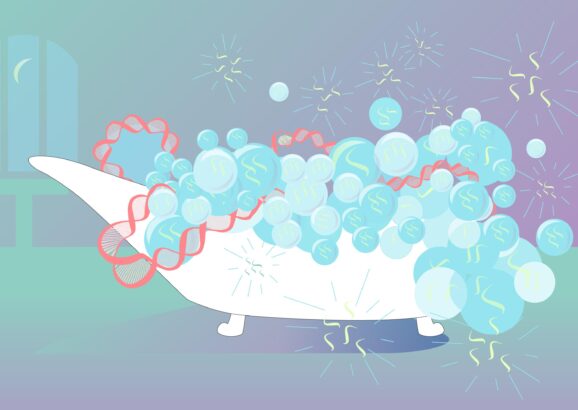 In the news
Research suggests the products of transcription — RNA molecules — regulate their own production through a feedback loop.
2020

//

Outstanding Graduate Teaching award, Chemical Engineering department, MIT
2019

//

Doctor of Engineering honoris causa, Hong Kong University of Science & Technology
2018

//

John Simon Guggenheim Fellowship
2018

//

Moore Distinguished Scholar, Caltech
2017

//

Elected, Member of the National Academy of Medicine
2016

//

Elected, Member of the National Academy of Sciences
2012

//

Outstanding Graduate Teaching award, Chemical Engineering department, MIT
2009

//

Outstanding Graduate Teaching award, Chemical Engineering department, MIT
2008

//

Elected Fellow, American Association for the Advancement of Science
2008

//

Distinguished Alumnus Award, Indian Institute of Technology-Kanpur
2007

//

Elected, Fellow of the American Academy of Arts and Sciences
2007

//

E.O. Lawrence Award for Life Sciences, DOE
2006

//

NIH Director's Pioneer Award
2005

//

Presidential Citation for Outstanding Achievement, Univ. of Delaware
2005

//

Dept. of Chem. Eng. Teaching Award, UC Berkeley
2005

//

Engineering Foundation Endowed Lectureship, U.T. Austin
2004

//

Elected, Member of the National Academy of Engineering
2004

//

Professional Progress Award, American Institute of Chemical Engineers
1999-00

//

Research Prof., Miller Inst. for Basic Science, Berkeley
1996

//

Allan P. Colburn Award, American Institute of Chemical Engineers
1996-97

//

AIChE, Berkeley Student Chapter, Appreciation for Distinguished Teaching
1994

//

Camille Dreyfus Teacher-Scholar Award
1993-98

//

Royal Academy of Engineering (U.K.), ICI Fellowship
1992-97

//

National Young Investigator Award
1989-92

//

Shell Young Faculty Fellow
Lee et al, Science (2003)

Das et al., Cell (2009)

Kosmrlj et al, Nature (2010)