Richard Milner
Professor of Physics
Focused on studying the spin structure of strongly interacting systems.
Research Interests
Study of the QCD structure of matter using spin-dependent electron scattering
Biographical Sketch
Born, raised and educated to undergraduate level in physics in Cork, Ireland.
Ph.D. in Physics from Caltech in 1985.
On MIT physics faculty since 1988.
Director of MIT-Bates Center (1998-2006)
Director of Laboratory for Nuclear Science (2006-2015).
Chair of Division of Nuclear Physics, American Physical Society in 2007.
Proponent of U.S.-based Electron-Ion Collider to study QCD since 1999.
Active in recent years in making MIT physics undergraduate experimental curriculum more effective.
More info:
In the news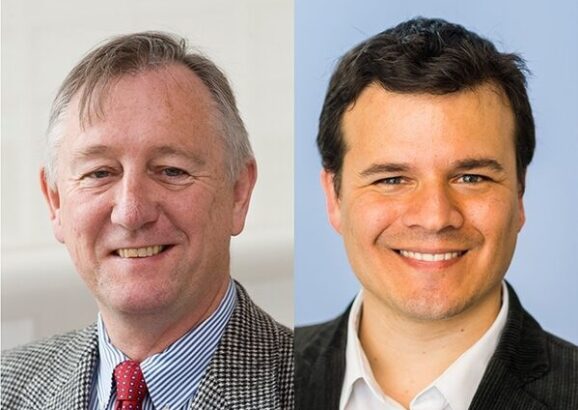 In the news
James Collins, Pablo Jarillo-Herrero, and Richard Milner have won top prizes for their work.
2020

//

Tom W. Bonner Prize in Nuclear Physics (APS) "for his pioneering work developing and using polarized internal targets in storage rings and for leadership in the study of the structure of the nucleon in a wide range of electronuclear experiments."
2018

//

Buechner Special Teaching Award (MIT) "for the efforts put forth to develop the Experimental Techniques course" (co-recipient Prof. Christoph Paus)
2011

//

Alexander Von Humboldt Prize, Germany
2010

//

D.Sc. degree (honoris causa) of National University of Ireland
2007

//

American Physical Society Fellow "For his leadership in the HERMES/DESY and BLAST/Bates experiments which have advanced our understanding of the spin structure of strongly interacting systems."
B.S. Henderson et al., Phys. Rev. Lett. 118 092501 (2017)

James Maxwell and Richard Milner https://arxiv.org/pdf/1911.06650.pdf

I. Friscic, T.W. Donnelly and R.G. Milner, Phys. Rev. C 100 025804 (2019)