Sara Seager
Class of 1941 Professor of Physics and Planetary Science
Current research interests are focused upon exoplanet atmospheres, interiors, and signs of life by way of exoplanet atmospheric biosignature gases.
Research Interests
Sara Seager's current research interests are focused upon the discovery and characterization of exoplanets. She has two main goals: the discovery of another Earth and the search for signs of life by way of atmospheric biosignature gases. Thousands of exoplanets are known to exist with exoplanet atmospheres a firmly established field of research. Exoplanet atmosphere observations, are however mostly limited to giant exoplanets with puffy atmospheres. Seager's group aims to understand the atmospheric composition and the interior structure of small rocky exoplanets, of the kind with potential to host life.
More info:
Biographical Sketch
Sara Seager is the Class of 1941 Professor of Planetary Science, Professor of Physics, and Professor of Aeronautics and Astronautics at the Massachusetts Institute of Technology. She received her B.Sc. in mathematics and physics from the University of Toronto in 1994. She earned a Ph.D. in astronomy from Harvard University in 1999, where she investigated recombination in the early Universe before moving to the then brand-new field of exoplanets. Seager was a long-term member at the Institute for Advanced Study in Princeton, NJ, and a senior research staff member at the Carnegie Institution of Washington in Washington, D.C., before joining the MIT faculty in 2007.
Sara Seager's past research is credited with laying the foundation for the field of exoplanet atmospheres, while her current research focuses on the search for signs of life on planets by way of atmospheric biosignature gases.
Professor Seager works on space missions for planetary discovery and exploration. She was the Deputy Science Director for the MIT-led NASA mission TESS, the PI for the on-orbit JPL/MIT CubeSat ASTERIA, and is a lead for Starshade Rendezvous Mission (a space-based mission concept under technology development for direct imaging discovery and characterization of Earth analogs).  Currently she leads a mission concept study for the search for signs of life or life itself in the Venus atmosphere.
Among other accolades, Professor Seager is a member of the National Academy of Sciences and a MacArthur Fellow.
In the news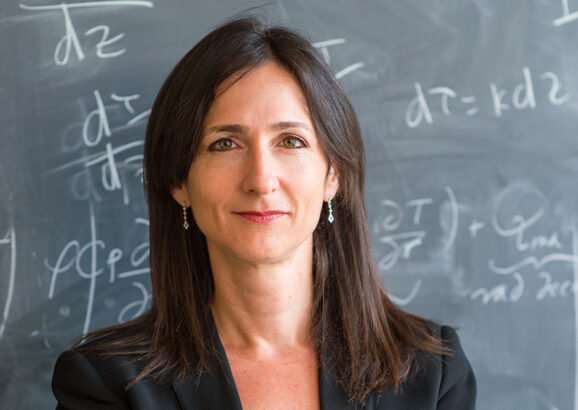 In the news
Pioneer in exoplanet research helped transform the burgeoning field into one of the fastest-growing and most exciting in space science.
2020

//

Legacy Fellow of the American Astronomical Society
2018

//

American Philosophical Society Member
2018

//

American Academy of Arts and Sciences Member
2015

//

National Academy of Sciences Member
2013

//

MacArthur Fellow
2013

//

Royal Astronomical Society of Canada, Honorary Lifetime Member
2012

//

Time Magazine: one of the 25 Most Influential in Space
2012

//

Raymond and Beverly Sackler International Prize in Physics "for her brilliant theoretical studies, including analysis of the atmospheres and internal compositions of extra-solar planets."
2012

//

American Association for the Advancement of Science Fellow
2011

//

Nature: Named in 2011 Top Ten
2008

//

Discover Magazine: Named in Best 20 under 40
2007

//

Helen B. Warner Prize, American Astronomical Society
2006

//

Popular Science Magazine: Named in Fifth Annual Brilliant Ten
2004

//

Bok Prize in Astronomy, Harvard University