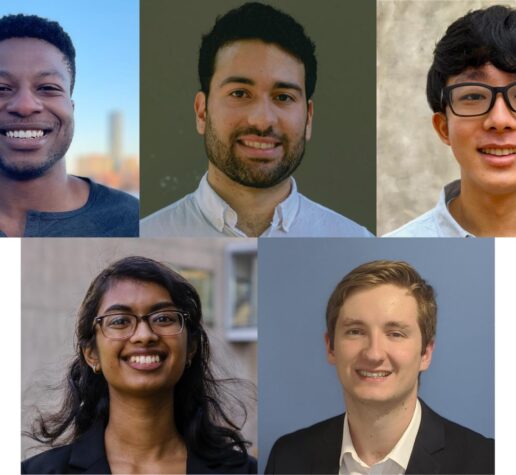 Photos courtesy of the Quad Fellows
Photos courtesy of the Quad Fellows
The new fellowship from the governments of Australia, India, Japan, and the United States, administered by Schmidt Futures, supports graduate education in STEM fields.
Four recent MIT alumni — Udochukwu Eze '22, William Rodriguez '18, Yotaro Sueoka '20, and Sreya Vangara '22 — and Harvard-MIT Health Sciences and Technology doctoral student Jacob White have been selected for the inaugural class of the Quad Fellowship. The new fellowship is a joint initiative of the governments of Australia, India, Japan, and the United States, and is administered by Schmidt Futures.
The Quad Fellowship aims to build the next generation of STEM leaders by recognizing exceptional individuals who intend to pursue STEM graduate study in the United States. Twenty-five fellows from each of the four countries were selected. The 100 fellows will each receive a $50,000 award for academic expenses plus opportunities for cross-cultural exchange, cohort-wide trips, mentorship, and interdisciplinary engagement. The program promotes the use of science and technology for social good.
The Quad Fellowship is the first multinational scholarship and educational program specifically supporting students in STEM. Students interested in learning more about the Quad Fellowship should contact Associate Dean Kim Benard in the Distinguished Fellowships Office in Career Advising and Professional Development.
Udochukwu "Udo" Eze '22 (United States)
Udochukwu "Udo" Eze is a materials scientist who works at the intersection of power generation, sustainability, and energy access. Since graduating from MIT in May 2022 with a BS in materials science and engineering and a minor in physics, he has been working as an electrochemical materials researcher at Argonne National Laboratory, designing solid-state electrolytes for improved interfaces in solid-state batteries. Since high school, Eze has worked on multiple renewable energy technologies including perovskite solar cells, plasma-facing components in fusion reactors, and carbon additives for fast-charging batteries. He has many hobbies, including guitar, combat sports (primarily kickboxing and jiu-jitsu), and programming. Eze is originally from Georgia and will pursue his PhD in materials science and engineering at Georgia Tech in fall 2023.
William Rodriguez Jimenez '18, MEng '19 (United States)
William Rodriguez Jimenez graduated from MIT in June 2018 with a BS in computer science and a minor in economics. He received his master of engineering degree in electrical engineering and computer science in June 2019. Rodriguez Jimenez became passionate about energy after witnessing blackouts in his native Puerto Rico following Hurricane María. He has presented his research on electric vehicle smart charging as a panelist for the 2021 European Energy Evaluation conference and has worked at Tesla, the United Nations, and Apple. He has lived in the United States, Spain, and Brazil and speaks English, Spanish, Portuguese, and French. Rodriguez Jimenez will apply his graduate school work toward the electrification of transportation and development of resilient microgrids.
Yotaro Sueoka '20 (Japan)
Hailing from Japan, Yotaro Sueoka graduated from MIT in May 2020 with double majors in biological engineering and brain and cognitive sciences along with minors in physics and computer science. During his studies at MIT, Sueoka investigated the mechanism of language comprehension in the brain. He is currently a PhD candidate in neuroscience at Johns Hopkins University. Enthralled by the intricacy of cognition, he combines electrophysiology and virtual reality to understand how the hippocampus forms episodic memory and directs spatial navigation. He also serves as a director for XPLANE, a nonprofit general incorporated association that aids students who hope to pursue graduate studies outside of Japan.
Sreya Vangara '22 (United States)
Sreya Vangara graduated from MIT in May 2022 with a double major in mechanical engineering and in electrical engineering and computer science. She is currently pursuing a master's in global affairs as a Schwarzman Scholar in China. Vangara is passionate about low-carbon energy and international technology governance. Inspired by her Indian grandmother's lack of electricity, Vangara hopes to develop lower-cost nuclear fusion devices for consistent and clean power in emerging countries. Originally from Maryland, she will be pursuing her PhD in mechanical engineering at Stanford University. Outside of academics, Vangara is a nationally ranked collegiate shooter, an advocate for collegiate disability rights, and a crime-drama enthusiast.
Jacob White (Australia)
Jacob White is a biomedical engineer and neuroscientist passionate about developing engineering-level models of complex neural systems. After graduating from the University of Queensland in Australia with a bachelor of engineering (honors), he moved to Boston to pursue a PhD in medical engineering and medical physics as part of the Harvard-MIT Program in Health Sciences and Technology. He currently studies how songbirds master songs as a model for how the brain learns and executes complex behaviors. White hopes to apply these insights to gain a better understanding of how these systems fail in diseases like Parkinson's and Huntington's.