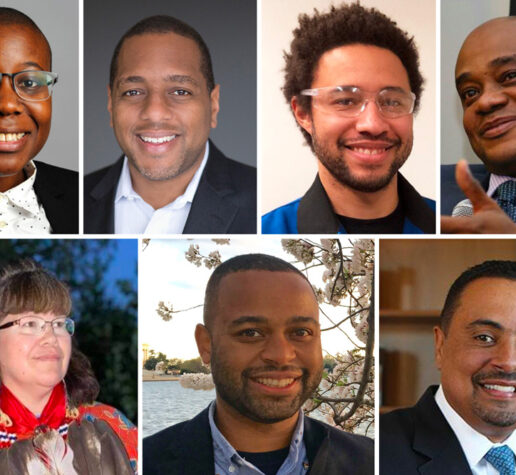 MIT hosts seven distinguished MLK Professors and Scholars for 2020-21
Honorees will engage in the life of the Institute through teaching, research, and other interactions with the MIT community.
In light of the Covid-19 pandemic, MIT has been charged with reimagining its campus, classes, and programs, including the Dr. Martin Luther King, Jr. (MLK) Visiting Professors and Scholars Program (VPSP).
Founded in 1990, MLK VPSP honors the life and legacy of Martin Luther King, Jr. by increasing the presence of and recognizing the contributions of scholars from underrepresented groups at MIT. MLK Visiting Professors and Scholars enhance their scholarship through intellectual engagement with the MIT community and enrich the cultural, academic, and professional experience of students. The program hosts between four and eight scholars each year. But what does a virtual year mean for a visiting scholar?
Even with the challenge of remote learning and limited in-person contact, MLK VPSP faculty hosts have articulated innovative ways to engage with the MIT community. Moya Bailey, for instance, will be a content contributor for the Program in Women's and Gender Studies' website and social media accounts. Charles Senteio will continue to collaborate with the Office of Minority Education on curriculum development that reflects a diverse student population with a focus on health and well-being, and he will also explore remote learning and its impact on curriculum.
With Provost Martin Schmidt's steadfast institutional support, and with active oversight from Institute Community and Equity Officer John Dozier and Associate Provost Tim Jamison, the MLK VPSP continues to honor King's legacy and be an institutional priority on campus and online. For Academic Year 2020-2021, MIT is hosting seven accomplished scholars representing different areas of interest from all over the United States and Canada.
2020-2021 MLK Visiting Professors and Scholars
Moya Bailey is an assistant professor at Northeastern University in the Department of Cultures, Societies, and Global Studies and in the program in Women's, Gender, and Sexuality Studies. In 2010, Bailey coined the term "misogynoir," widely adopted by scholars, which describes the anti-Black racist misogyny that Black women experience. In the spring, she will teach a course in the MIT Program in Women's and Gender Studies called Black Feminist Health Science Studies. In April 2021, she will organize and host a daylong Black Feminist Health Science symposium.
Jamie Macbeth joins the program for another year in MIT's Computer Science and Artificial Intelligence Laboratory (CSAIL) as a valuable member of the Genesis group, a research team mainly focused on building computer systems and computational models of human intelligence based on humans' capability for understanding natural language. One of Macbeth's research collaborations involves using computer systems in understanding natural language to detect aggressive language on social media with the eventual goal of violence prevention. He will continue to mentor and collaborate with women and underrepresented groups at the undergraduate, MS, and PhD levels.
Ben McDonald is returning for a second year as a postdoc in the Department of Chemistry. His research focuses on developing designer polymers for chemical warfare-responsive membranes and surfactants to control the function of dynamic, complex soft colloids. His role as a mentor will expand to include both undergraduate and graduate students in the Swager Lab. McDonald will continue to collaborate with Chemistry Alliance for Diversity and Inclusion at MIT to organize and host virtual seminars showcasing the work of underrepresented scholars of color in the fields of chemistry and chemical engineering.
Luis Gilberto Murillo-Urrutia, a research fellow hosted by the Environmental Solutions Initiative (ESI), joins us from the Center for Latin America and Latino Studies at American University. His research focuses on the intersection of peace and security with environmental conservation, particularly in Afro-Colombian territories. During his visit, Murillo-Urrutia will hold mentorship sessions at ESI for students conducting research on environmental planning and policy or with a minor in environment and sustainability.
Thomas Searles, recently promoted to associate professor with tenure, is visiting from the Department of Physics at Howard University. While at MIT, he will pursue numerical studies of topological materials for photonic and quantum technological applications. He will mentor students from his lab, the Black Students Union, National Society of Black Engineers, and the Black Graduate Student Association. Searles plans to meet with the MIT physics graduate admissions committee to formulate recruitment strategies with his home and other historically Black colleges and universities.
Charles Senteio joins the program from Rutgers University School of Communication and Information, where he is an assistant professor in library and information science. As a visiting scholar at the MIT Sloan School of Management, he will collaborate with the Operations Management Group to expand on his community health informatics research and investigate health equity barriers. He recently facilitated a workshop, "Healthcare, Technology, and Social Justice Converge — Applied Equity Research and Why It Matters to All of Us" at the MIT Day of Dialogue event in August.
Patricia Saulis is Wolastoqey (Maliseet) from Wolastoq Negotkuk (Tobique First Nation in New Brunswick, Canada). As an MLK Visiting Scholar, Saulis will collaborate with her faculty host, Professor James Paradis from Comparative Media Studies/Writing, on a course titled, "Transmedia Art, Extraction and Environmental Justice" and engage with MIT Center for Environmental Health Sciences on their EPA Superfund-related work in the Northeastern United States. She will work closely with the American Indian Science and Engineering Society (AISES) and the Native American Students Association in raising awareness of the challenges impacting our Indigenous students. Through dialogue and presentations, she will help promote the understanding of Indigenous Peoples' culture and help identify strategies to create a more inclusive campus for our Indigenous community. 
Community engagement
This year's scholars are eager to join our community and embark on a mutually rewarding journey of learning and engagement — wherever in the world we may be.  
MIT community members are invited to join the Institute Community and Equity Office in engaging the MLK Professors and Scholars through a signature monthly speaker series, where each scholar will present his or her research and hold discussions via Zoom. The first welcome event will be held on Sept. 16 from 12 to 1 p.m. Contact Rachel Ornitz rornitz@mit.edu for event details.
For more information about this year's and previous scholars and the program, visit the newly redesigned MLK Visiting Professors and Scholars website.