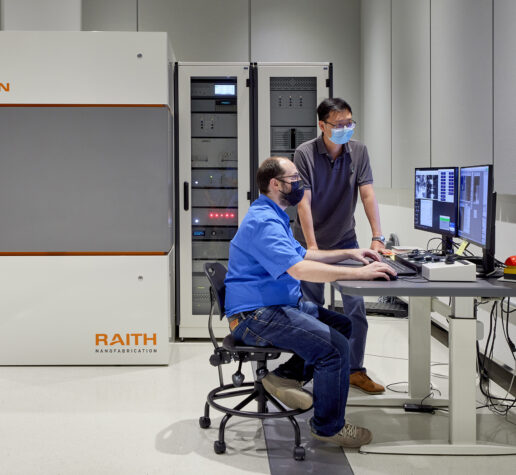 Photo: Ken Richardson
Photo: Ken Richardson
MIT.nano receives grant to acquire focused ion beam scanning electron microscope
National Science Foundation award will allow the VELION FIB-SEM to become a permanent instrument in MIT.nano's characterization facility.
The VELION FIB-SEM, a next-generation dual-beam nanofabrication platform located in MIT.nano, will become a permanent part of the facility's characterization capabilities, thanks in part to a Major Research Instrumentation (MRI) award from the U.S. National Science Foundation (NSF).
A team of MIT researchers led by James LeBeau, the John Chipman Associate Professor of Materials Science and Engineering, applied for the grant in 2021 to acquire the VELION focused ion beam scanning electron microscope (FIB-SEM), a state-of-the-art instrument that offers capabilities for advanced nanofabrication and micromanipulation. The tool has been available to MIT.nano users for the past 12 months as a two-year demonstration unit from the manufacturer, Raith.
The VELION integrates a top-down mounted FIB column perpendicular to a laser interferometer stage and a side-mounted field emission SEM column. This unique setup allows for wafer-scale, stitching-error-free, continuous patterning of large-device structures — a novel capability for FIB instruments. The VELION also provides Wien filtered gold, germanium, and silicon ions for gallium-free patterning. It has proven useful for applications requiring ion implantation, micromanipulation, and 2D material modification, as well as general nanoscale science.
The VELION system installed at MIT.nano has demonstrated record-setting performance through a combination of the instrument's design and the engineered space. MIT.nano's basement characterization suites, rated Vibration Criteria G and E, meet the most stringent nanoscale imaging requirements for low vibration and low electromagnetic interference. For the VELION, this has led to unprecedented process stability, accuracy, and automation, as well as high-precision patterning resolution.
The instrument's placement at MIT.nano is not only important to take advantage of this tightly controlled environment, but also because of MIT.nano's role as an open-access central facility for the campus. Over the course of the first year, researchers from 10 distinct MIT departments, labs, or centers utilized the VELION for 40 unique research projects ranging from diamond photonics and X-ray optics development to human-machine symbiosis, according to Anna Osherov, assistant director for user services at Characterization.nano.
"The VELION brings unique capabilities previously not available in the New England region," notes Osherov, who is a co-principal investigator on the award. "The applications space is incredibly diverse, promoting cross-disciplinary research and bridging the gap between fundamental science and engineering."
In addition to LeBeau and Osherov, Dirk Englund, associate professor of electrical engineering and computer science; Juejun Hu, associate professor of materials science and engineering; and Ashwin Gopinath, assistant professor of mechanical engineering, are co-principal investigators on the award. The breadth of departments represented in this group of investigators highlights the VELION's ability to support the rapid prototyping of materials and devices to enable a variety of fields, such as quantum computing, next-generation electronics, and the study of novel soft/hard matter systems.
The acquisition of VELION for MIT.nano enabled by the NSF-MRI award will make this instrument available for the long term to campus researchers and external users. The award also highlights the VELION's use in ongoing activities for K-12 students to experience scientific instrumentation firsthand.
The NSF-MRI funds will be augmented by contributions from MIT.nano Industrial Consortium funds.
For more information about the VELION and other MIT.nano tools and instruments — including access and training — visit nanousers.mit.edu.