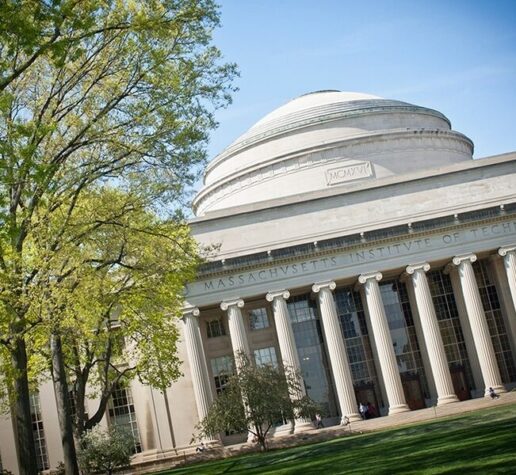 Photo: Patrick Gillooly
Photo: Patrick Gillooly
Seven MIT educators honored for digital learning innovation
Educators recognized for improving classroom instruction and student engagement through innovative uses of digital technology.
---
Seven MIT educators have received awards this year for their significant digital learning innovations and their contributions to teaching and learning at MIT and around the world.
Polina Anikeeva, Martin Bazant, and Jessica Sandland shared the third annual MITx Prize for Teaching and Learning in MOOCs — an award given to educators who have developed massive open online courses (MOOCs) that share the best of MIT knowledge and perspectives with learners around the world. Additionally, John Belcher, Amy Carleton, Jared Curhan, and Erik Demaine received Teaching with Digital Technology Awards, nominated by MIT students for their innovative use of digital technology to improve their teaching at MIT.
The MITx Prize for Teaching and Learning in MOOCs
This year's MITx prize winners were honored at an MIT Open Learning event in May. Professor Polina Anikeeva of the Department of Materials Science and Engineering and Digital Learning Lab Scientist Jessica Sandland received the award for teaching 3.024x (Electronic, Optical and Magnetic Properties of Materials). The course was praised for not only its global impact, but also for the way in which it enhanced the residential experience. Increased flexibility from integrating the online content allowed for the addition of design reviews, which give MIT students firsthand experience working on complicated engineering problems.
3.024x is fast-paced and challenging. To bring some levity to the subject, the instructors designed problem sets around a series of superhero-themed comic strips that integrated the science and engineering concepts that students learned in class.
Martin Bazant, of the departments of Chemical Engineering and Mathematics, received the MITx prize for his course, 10.50.1x (Analysis of Transport Phenomena Mathematical Methods). Most problems in the course involve long calculations, which can be tricky to demonstrate online.
To solve this challenge, Bazant broke up problems into smaller parts that included tips and tutorials to help learners solve the problem while maintaining the rigorous intellectual challenge. Course participants included a diverse group of college students, industry professionals, and faculty from other universities in many science and engineering disciplines across the globe.
Teaching with Digital Technology Awards
Co-sponsored by MIT Open Learning and the Office of the Vice Chancellor, the Teaching with Digital Technology Awards are student-nominated awards for faculty and instructors who have improved teaching and learning at MIT with digital technology. MIT students nominated 117 faculty and instructors for this award this year, more than in any previous year. The winners were celebrated at an awards luncheon in early June. John Belcher, Erik Demaine, and Jared Curhan attended the awards luncheon, and — in the spirit of an award reception for digital innovation — Amy Carleton joined the event virtually, through video chat.
John Belcher was honored for his physics courses on electricity and magnetism. Students appreciated the way that Belcher incorporated videos with his lectures to help provide a physical representation of an abstract subject. He created the animated videos to show visualizations of fundamental physics concepts such as energy transfer and magnetic fields. Students remarked that the videos helped them learn about everything from solar flares and the solar cycle to the fundamentally relativistic nature of electromagnetism.
Erik Demaine of the Computer Science and Artificial Intelligence Lab received the award for his course 6.892 (Fun with Hardness Proofs). The course flipped the traditional classroom model. Instead of lecturing in person, all lectures were posted online and problems were done in class. This allowed the students to spend class time working together on collaborative problem solving through an online application that Demaine created, called Coauthor.
Jared Curhan received the award for his negotiation courses at the MIT Sloan School of Management, including 15.672 (Negotiation Analysis), which he designed for students across the Institute. Curhan used digital technology to provide feedback while students practiced their negotiating skills in class. A platform called iDecisionGames helped simulate negotiation exercises between students, and after each exercise it provided data about how each participant performed, both objectively and subjectively.
Amy Carleton received the award for her course on science writing and new media. During the course, students learned how to write about scientific and technical topics for a general audience. They put their skills to work by writing Wikipedia articles, where they used advanced editing techniques and wrote mathematical expressions in LaTEX. They also used Google Docs during class to edit articles in small groups, and developed PowerPoint presentations where they learned to incorporate sound and graphics to emphasize their ideas.
Both awards celebrate instructors who are using technology in innovative ways to help teach challenging courses to both traditional students and online learners.
"At MIT, there is no shortage of digital learning innovation, and this year's winners reflect the Institute's strong commitment to transforming teaching and learning at MIT and around the globe," says MIT Professor Krishna Rajagopal, dean for digital learning. "They have set new standards for online and blended learning."