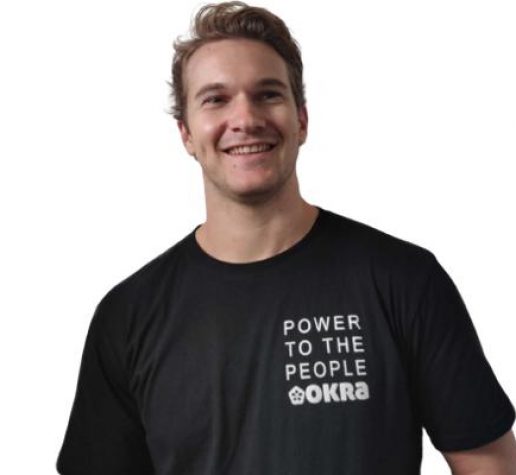 Photo courtesy of Matthew Johnson.
Photo courtesy of Matthew Johnson.
Matthew Johnston '20 uses physics and baseball skills to get remote villages on the grid.
Matthew Johnston was a physics senior looking to postpone his entry into adulting. He had an intense four years at MIT; when he wasn't in class, he was playing baseball and working various tech development gigs.
Johnston had led the MIT Engineers baseball team to a conference championship, becoming the first player in his team's history to be named a three-time Google Cloud Academic All-American. He put an exclamation mark on his career by hitting four home runs in his final game. 
Johnston also developed a novel method of producing solar devices as a researcher with GridEdge Solar at MIT, and worked on a tax-loss harvesting research project as an intern at Impact Labs in San Francisco, California. As he contemplated post-graduation life, he liked the idea of gaining new experiences before committing to a company.
Remotely Down Under
MISTI-Australia matched him with an internship at Sydney-based Okra Solar, which manufactures smart solar charge controllers in Shenzhen, China, to help power off-the-grid remote villages in Southeast Asian countries such as Cambodia and the Philippines, as well as in Nigeria. 
"I felt that I had so much more to learn before committing to a full-time job, and I wanted to see the world," he says. "Working an internship for Okra in Sydney seemed like it would be the perfect buffer between university life and life in the real world. If all went well, maybe I would end up living in Sydney a while longer."
After graduating in May 2020 with a BS in physics, a minor in computer science, and a concentration in philosophy, he prepared to live in Sydney, with the possibility of travel to Shenzhen, when he received a familiar pitch: a curveball. 
Like everyone else, he had hoped that the pandemic would wind down before his Down Under move, but when that didn't happen, he pivoted to sharing a place with friends in Southern California, where they could hike and camp in nearby Sequoia National Park when they weren't working remotely.
On Okra's software team, he focused on data science to streamline the maintenance and improve the reliability of Okra's solar energy systems. However, his remote status didn't mesh with an ongoing project to identify remote villages without grid access. So, he launched his own data project: designing a model to identify shaded solar panels based on their daily power output. That project was placed on hold until they could get more reliable data, but he gained experience setting up machine-learning problems as he developed a pipeline to retrieve, process, and load the data to train the model.
"This project helped me understand that most of the effort in a data science problem goes into sourcing and processing the data. Unfortunately, it seemed that it was just a bit too early for the model to perform accurately."
Team-powered engine
Coordinating with a team of 23 people from more than 10 unique cultures, scattered across 11 countries in different time zones, presented yet another challenge. He responded by developing a productive workflow by leaving questions in his code reviews that would be answered by the next morning.
"Working remotely is ultimately a bigger barrier to team cohesion than productivity," he says. He overcame that hurdle as well; the Aussie team took a liking to him and nicknamed him Jonno. "They're an awesome group to be around and aren't afraid to laugh at themselves."   
Soon, Jonno was helping the service delivery team efficiently diagnose and resolve real issues in the field using sensor data. By automating the maintenance process in this way, Okra makes it possible for energy companies to deploy and manage last-mile energy projects at scale. Several months later, when he began contributing to the firmware team, he also took on the project of calculating a battery's state of charge, with the goal to open-source a robust and reliable algorithm.
"Matt excelled despite the circumstance," says Okra Solar co-founder and CEO Afnan Hannan. "Matt contributed to developing Okra's automated field alerts system that monitors the health and performance of Okra's solar systems, which are deployed across Southeast Asia and Africa. Additionally, Matt led the development of a state-of-the-art Kalman filter-based online state-of-charge (SoC) algorithm. This included research, prototyping, developing back-testing infrastructure, and finally implementing and deploying the solution on Okra's microcontroller. An accurate and stable SoC has been a vital part of Okra's cutting-edge Battery Sharing feature, for which we have Matt to thank." 
Full power
After six months, Johnston joined Okra full time in January, moving to Phnom Penh, Cambodia, to join some of the team in person and immerse himself into firmware and data science. In the short term, the goal is to electrify villages to provide access to much cheaper and more accessible energy.
"Previously, the only way many of these villages could access electricity was by charging a car battery using a diesel generator," he says. "This process is very expensive, and it is impossible to charge many batteries simultaneously. In contrast, Okra provides, cheap, accessible, and renewable energy for the entire village."
For Johnston to see an Okra project firsthand, some villages are a 30-minute boat ride from their nearest town. He and others travel there to demonstrate small appliances that many in the world take for granted, such as using an electric blender to make a smoothie.
"It's really amazing to see how hard-to-reach these villages are and how much electricity can help them," says Johnston. "Something as simple as using a rice cooker instead of a wood fire can save a family countless hours of chopping wood. It also helps us think about how we can improve our product, both for the users and the energy companies."   
"In the long term, the vision is that by providing electricity, we can introduce the possibility of online education and more productive uses of power, allowing these communities to join the modern economy."
While getting to Phnom Penh was a challenge, he credits MIT for hitting yet another home run.
"I think two of the biggest things I learned from both baseball and physics were how to learn challenging things and how to overcome failure. It takes persistence to keep digging for more information and practicing what you've already failed, and this same way of thinking has helped me to develop my professional skills. At the same time, I am grateful for the time I spent studying philosophy. Thinking deeply about what might lead to a meaningful life for myself and for others has led me to stumble upon opportunities like this one."