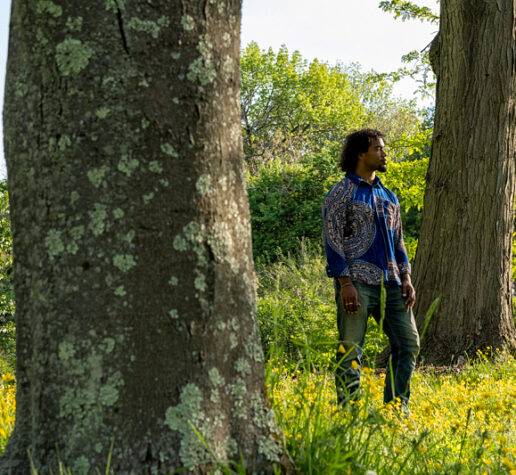 Photo: Vanessa Leroy
Photo: Vanessa Leroy
Condensed-matter theory PhD candidate Makinde Ogunnaike is featured in the Poetry of Science project.
"With skin brushed then tangled,
with the apple touched at the supermarket then tangled,
with the tear wiped then woven away,
tangled with even things very distant like Mars dust,
that unravel themselves when /touched by our gaze…" 
—Excerpt from Miriam Manglani's poem "Makinde's Quantum World," about Makinde Ogunnaike's quantum physics research
Senior MIT physics doctoral student Olumakinde "Makinde" Ogunnaike briefly traded his research for verse as a participant in The Poetry of Science, an initiative funded by the Cambridge Arts Council that pairs poets of color with scientists of color from MIT and other area schools to artistically express their scientific work through art and poetry. Ogunnaike and other area scientists were invited by Joshua Sariñana PhD '11, who studied neuroscience with the Department of Brain and Cognitive Sciences, and who tapped into his photography and writing talents to co-produce the art exhibit. 
A Nigerian-American native of Delaware, Ogunnaike studied physics and math at Harvard University, and received a master's in philosophy of physics at Oxford University before coming to MIT to study condensed-matter physics theory. He is a graduate student working with Professor Leonid Levitov's group, studying emergent bound states in mixed Bose-Fermi systems and entanglement dynamics.
"I deal with systems where quantum theory's strangeness manifests in emergent properties. Instead of new fundamental particles, I look for materials with unintuitive properties that arise from a chorus of delicate quantum connections. One line of work involves studying collections of cold atoms that bind together to form 'composite atoms' themselves. Another focuses on the effects of measurement and symmetry on the spread of quantum entanglement — correlations between quantum particles."
Working with poet Miriam Manglani to explain his research, Ogunnaike decided to focus on the areas where his research and his faith intersected. They jointly edited the poem, and a photographer took his portrait. The project was a natural fit for him, as he also runs a poetry and tea event at Harvard.
"We get a lot of STEM students bringing in their own perspectives and interests, so this project felt perfect," he says. "My interest in devotional art, in particular, feels like it comes from the same place as my interest in physics: interest in understanding fundamental structures. I particularly love African art, which resonates with me personally, and religious or devotional art, like poetry, music, and paintings, since these usually have extra meaning as a way of knowing or interacting with the divine."
He is a co-founder of the Harvard-MIT Chapter of the National Society of Black Physicists (NSBP), and a founding member of the MIT Physics Working Group to promote changes in diversity and inclusion to the department. His career goals are to teach physics at a liberal arts college "where I can teach philosophy of physics and support underrepresented students."    
Other MIT participants in the project include students, technicians, postdocs, and alumni. They include biology doctoral candidates Christian Loyo and Sheena Vasquez, Broad Institute of MIT and Harvard postdoc Michael Wells, electrical engineering and computer science majors Kathleen Esfahany and Suparnamaaya PrasadKoch Institute for Integrative Cancer Research technician Nandita Menon, mechanical engineering and theater alumna Luisa Apolaya Torres '21; and Media Lab PhD candidates Huili Chen and Shannon Johnson.
This project is a collaboration with The People's HeART, a joint community health-care initiative led by physics alumnus Daniel Chonde '07, PhD '15, who is also featured in the exhibit. After Chonde studied particle physics at MIT, he received his PhD in biophysics from Harvard, with a joint degree from MIT in medical engineering and medical physics. After Harvard Medical school he became a resident in the Department of Radiology at Massachusetts General Hospital.
The Poetry of Science will be featured in the lobby of Mass General through the end of November, and at an exhibition at the Rotch Library at MIT during Independent Activities Period in January 2022. The poems were presented at the Boston Lit Crawl on June 10 at the Starlight Space in Central Square, and will be published in Spry Literary Journal.