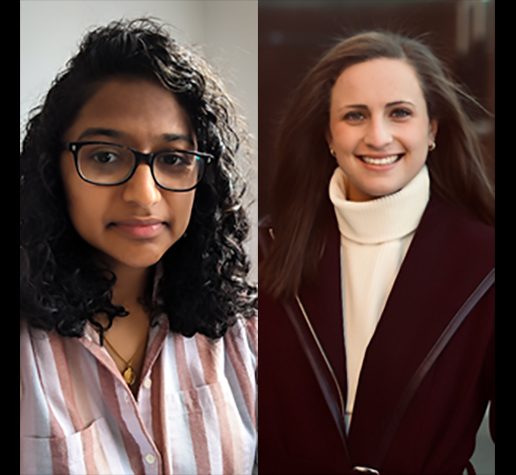 Two from Physics awarded 2021 Fulbright Fellowships
Grants will support their research, graduate study, and teaching abroad in 2021-22.
Twelve MIT student affiliates have won fellowships for the Fulbright 2021-22 grant year. Their host country destinations include Brazil, Iceland, India, the Netherlands, New Zealand, Norway, South Korea, Spain, and Taiwan, where they will conduct research, earn a graduate degree, or teach English.
Sponsored by the U.S. Department of State, the Fulbright U.S. Student Program offers opportunities for American student scholars in over 160 countries. Last fall, Fulbright received a record number of applications, making this the most competitive cycle in the 75-year history of the program.
Jenny Chan is a senior studying mechanical engineering. Growing up in Philadelphia as the child of Vietnamese and Cambodian immigrants gave her an appreciation for how education could be used to uplift others. This led to her joining many activities that would continue to ignite her passion for education, including CodeIt, Global Teaching Labs, Full STEAM Ahead, and DynaMIT. At MIT, Chan also enjoys holding Friday night events with SaveTFP, sailing on the Charles River, and dancing as a member of DanceTroupe. Her Fulbright grant will take her to Taiwan, where she will serve as an English teaching assistant.
Gretchen Eggers '20 graduated with double majors in brain and cognitive sciences and computer science. As a Fulbright student in Brazil, Eggers will head to the Arts and Artificial Intelligence group at the University of São Paulo to research graffiti, street art, and the design of creative artificial intelligence. With a lifelong passion for painting and the arts, Eggers is excited to spend time with and learn about mural painting from local artists in São Paulo. Upon completing her Fulbright, Eggers plans to pursue a PhD in human-computer interaction.
Miki Hansen is a senior majoring in mechanical engineering. As the winner of the Delft University of Technology's Industrial Design Engineering Award, she will pursue a MS in integrated product design at TU Delft in the Netherlands. In tandem with her studies, she hopes to conduct research into sustainable product design for a circular economy. At MIT, Hansen was involved in Design for America, Pi Tau Sigma (MechE Honor Society), DanceTroupe, the MissBehavior dance team, and Alpha Chi Omega. After completing Fulbright, Hansen plans on working as a product designer focused on sustainable materials and packaging.
Olivia Wynne Houck is a doctoral student in the History, Theory, and Criticism of Architecture program. She focuses on urban planning in the 20th century, with an interest in the intersections of transportation, economic, and diplomatic policies in Iceland, the United States, and Sweden. She also conducts research on infrastructure in the Arctic. As a Fulbright National Science Foundation Arctic Research Award recipient, Houck will be hosted by the political science department at the University of Iceland, where she will pursue archival research on Route 1, the ring road that encircles Iceland. Houck has also received a fellowship from the American-Scandinavian Foundation. 
Laura Huang is a senior majoring in mechanical engineering. At the National Taiwan University of Science and Technology, Huang will combine engineering and art to develop an assistive calligraphy robot to better understand human-computer interaction. At MIT, she has done research with the Human Computer Interaction Engineering group in the Computer Science and Artificial Intelligence Laboratory, and has helped run assistive technology workshops in India and Saudi Arabia. Outside of research, Huang creates art, plays with the women's volleyball club, and leads STEM educational outreach through MIT CodeIt and Global Teaching Labs. While in Taiwan, she hopes to continue STEM outreach, explore the culinary scene, and learn calligraphy.
Teis Jorgensen graduates in June with an MS from the Integrated Design and Management program. He is a designer, researcher, and behavioral scientist with seven years' experience designing products and services with a social mission. His passion is designing games that inspire and challenge players to be the best version of themselves. For his Fulbright research grant in Kerala, India, Teis will interview women about their challenges balancing home and professional responsibilities. His goal is to use these interviews as the inspiration for the design of a board game that shares their stories and ultimately helps remove barriers to female employment.
Meghana Kamineni will graduate this spring with a major in computer science and engineering and a minor in biology. At the University of Oslo in Norway, Kamineni will implement statistical models to understand and predict the impact of vaccinations and other interventions on the spread of Covid-19. At MIT, she pursued interests in computational research for health care through work on the bacterial infection C. difficile in the laboratory of Professor John Guttag. Outside of research, she has been involved with STEM educational outreach for middle school students through dynaMIT and MIT CodeIt, and hopes to continue outreach in Norway. After Fulbright, Kamineni plans to attend medical school.
Andrea Shinyoung Kim will graduate in June with an MS in comparative media studies. Her master's thesis looks at the relation between digital avatars and personhood in social virtual reality, advised by D. Fox Harrell. Her Fulbright research in South Korea will investigate how virtual reality can facilitate cross-cultural learning and live performance art. Kim will observe Korean mask dances and its craft to better inform the design of online virtual worlds. She will collaborate with her hosts at the Seoul Arts Institute and CultureHub. After Fulbright, she plans to pursue a PhD to further explore her interdisciplinary interests and arts praxis.
Kevin Lujan Lee is a PhD candidate in the Department of Urban Studies and Planning. In Aotearoa/New Zealand, he will study the transnational processes shaping how low-wage Pacific Islander workers navigate the institutions of labor market regulation. This will comprise one-half of his broader dissertation project — a comparative study of Indigenous Pacific Islanders and low-wage work in 21st-century empires. His research is only made possible by activists in the U.S. immigrant labor movement and global LANDBACK movement, who envision a world beyond labor precarity and Indigenous dispossession. Lee hopes to pursue an academic career to support the work of these movements.
Anjali Nambrath is a senior double majoring in physics and mathematics. She has worked on projects related to nuclear structure, neutrino physics, and dark matter detection at MIT and at two national labs. At MIT, she was president of the Society for Physics Students, a member of the MIT Shakespeare Ensemble, an organizer of HackMIT, and a teacher for the MIT Educational Studies Program. For her Fulbright grant to India, Nambrath will be based at the Tata Institute for Fundamental Research in Mumbai, where she will work on models of neutrino production and interaction in supernovae. After Fulbright, Nambrath will begin graduate school in physics at the University of California at Berkeley. 
Abby Stein will graduate in June with a double major in physics and electrical engineering. At MIT, she researched communication theory in the Research Laboratory of Electronics, and optical network hardware at Lincoln Laboratory. Stein discovered an interest in international research and education through her MISTI experience in Chile, where she studied optics for astronomy, and through teaching engineering workshops in Israel with MIT's Global Teaching Labs. For her Fulbright, Stein will conduct research on quantum optical satellite networks at the Institute of Photonic Sciences in Barcelona, Spain. After completing Fulbright, Stein will head to Stanford University to pursue a PhD in applied physics. 
Tony Terrasa is a senior majoring in mechanical engineering and music. As a Fulbright English teaching assistant in Spain, he will be teaching in Galicia. Previously, Terrasa taught English, math, and physics to secondary school students in Lübeck, Germany as part of the MIT Global Teaching Labs program. He also taught for three years in the English as a Second Language Program for MIT Facilities Department employees. An MIT Emerson Fellow of Jazz Saxophone, he looks forward to listening to and learning about Galician music traditions while sharing some of his own.
MIT students and recent alumni interested in applying to the Fulbright U.S. Student Program should contact Julia Mongo in the Office of Distinguished Fellowships at MIT Career Advising and Professional Development. Students are also supported in the process by the Presidential Committee on Distinguished Fellowships.