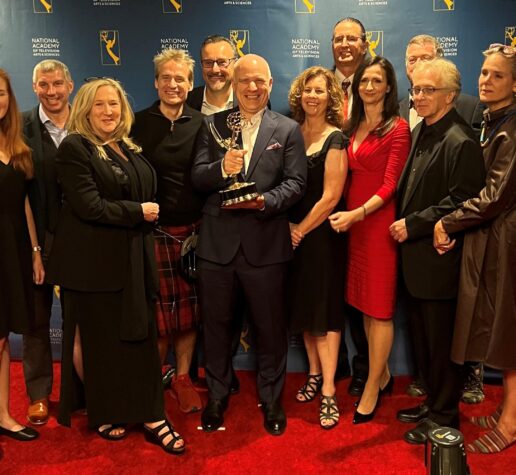 Credit: National Academy of Television Art and Sciences
Credit: National Academy of Television Art and Sciences
Documentary featuring Professor Sara Seager wins Emmy Award
"The Hunt for Planet B" follows Seager and others on their search for extraterrestrial life; three other nominated films feature MIT affiliates.
A number of MIT affiliates featured prominently at the 43rd Annual News and Documentary Emmy Awards presented by The National Academy of Television Arts and Sciences — including the winner of the Emmy for Outstanding Science and Technology Documentary.
"The Hunt for Planet B" — which focuses, in part, on Sara Seager, MIT's Class of 1941 Professor of Planetary Sciences in the Department of Earth, Atmospheric and Planetary Sciences and a professor in the departments of Physics and of Aeronautics and Astronautics — received the Emmy on Sept. 29th.
Directed by Nathaniel Kahn, "The Hunt for Planet B" from CNN Films portrays the human saga behind NASA's James Webb Space Telescope (JWST). It connects the creation of the largest optical telescope in space with the story of a group of female scientists dedicated to the search for Earth-like worlds beyond our solar system.
Seager, a planetary scientist and astrophysicist, focuses on theoretical models of atmospheres and interiors of exoplanets as well as space science missions. Her research has introduced many new ideas to the field, including work that led to the first detection of an exoplanet atmosphere. Seager's trailblazing research preceded the confirmation of TRAPPIST-1 — a star system made up of seven exoplanets, located 39.46 light years from Earth. Now, Seager is part of a team that will use JWST to observe one of its planets, TRAPPIST-1e.
The film also briefly showcases the Transiting Exoplanet Survey Satellite (TESS), an MIT-led NASA mission that discovers transiting exoplanets by an all-sky survey.
"We are thrilled with the Emmy and with sharing the story of the Webb telescope, some key people behind it, and the journey to find meaning that we are each on," says Seager.
The awards honored programming content from more than 2,500 submissions that originally premiered in 2021, judged by a pool of over 870 peer professionals from across the news and documentary industry.
Four of the five nominees in the Outstanding Science and Technology Documentary category feature MIT students, faculty, and alumni. The others include:
Independent Lens's "Coded Bias," directed by Shalini Kantayya, which follows MIT Media Lab researcher Joy Buolamwini SM '17, PhD '22. When Buolamwini discovered that many facial recognition technologies do not accurately detect darker-skinned faces or classify the faces of women, she embarked on an investigation into widespread bias in algorithms.
NASA TV's "Down to Earth," directed by Jason Clemons, takes viewers on a journey to the International Space Station through the eyes of NASA astronauts, including Timothy Creamer SM '92, Tyler "Nick" Hague SM '00, and Jack Fischer SM '98.
And NOVA's "Picture a Scientist," executive produced by Amy Brand PhD '89 and directed by Sharon Shattuck and Ian Cheney, spotlights three women working to make science more diverse, equitable, and open to all. From MIT, Amgen Professor of Biology Emerita Nancy Hopkins conducted pioneering research identifying genes required for zebrafish development and led the groundbreaking 1999 public report on the status of female science faculty at the Institute.